The Money Laundering Scheme Linked to Hunter Biden, Burisma and The Obama Administration Uncovered
Posted On February 6, 2020
---
Glen Beck just Broke the Backs of The Obama Administration, Joe Biden, Hunter Biden, and John Kerry.
One of the Biggest Money Laundering Schemes using American Tax-Payer Dollars to fund a Private War, which by the way is Totally Illegal and they LIED to Congress to set this up.
This is what the Democrats are trying to COVER UP! Almost 10 Billion is missing and Trump knows about this…This is Government Corruption at its Highest Levels and the Paper-Trail is there and the Democrats know it!
People will go to prison for the rest of their lives and they know it…some of them will instantly be on Hit-Lists…So this was never about Trump's phone call…this was about COVERING UP this Obama Administration Funded Private War and embezzling almost 10 Billion dollars of American Tax-Payer Money!
The media and the Left drove the narrative from the start on the July 25 phone call between President Trump and Ukrainian President Zelensky. They wanted us to see only one thing. It's time to look at more. Glenn Beck connects the dots between the phone call that led to the impeachment of President Trump and why an investigation into Hunter Biden is so important.
Ultimately, this was never about Trump. It wasn't even about the Bidens. This is about a violation of constitutional power by Barack Obama that will horrify even his most ardent supporters. Glenn pulls back the curtain on the theft of billions in international funds to Ukraine by following the clues in the phone call. Those clues could lead to mountains of corruption, and Hunter Biden might be the lynchpin to uncovering the entire thing.
The links provided by Beck show that $1.8 million in U.S. taxpayer dollars sent to Ukraine during the Obama administration are unaccounted for — and raises the question: Why hasn't Congress launched an investigation into how those funds were spent?
What are the details?
During the special, Beck explained that in 2014, $23 million was sent to a bank in London via wire transfer by Mykola Zlochevsky, the head of Burisma. British authorities immediately froze the accounts and began tracing the funds back to their origins.
According to Beck, the evidence suggests that the money had been laundered through the minimally regulated Latvian banking system, and transferred into an array of shell companies.
"Not only did Biden not seem to care about his new company being investigated for stealing and laundering money," Beck said, "he also apparently didn't mind that the primary owner of Burisma [Valeriyovych Kolomoyski] was on a U.S. Visa ban list forget this: murders and beheadings."
A few weeks after Burisma was implicated in a money-laundering ring, Hunter Biden became a board member, and within a few months, then-Vice President Joe Biden and Secretary of State John Kerry lobbied for $1.8 billion to be delivered into PrivatBank — which was owned by Kolomoyski and became Ukraine's state bank.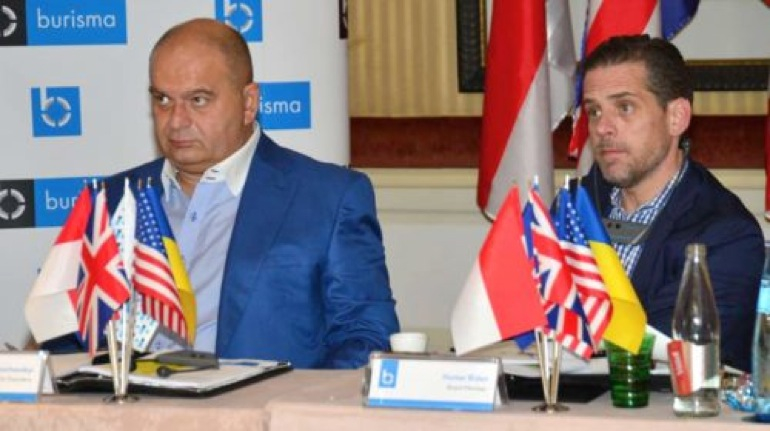 That $1.8 billion is still missing and could have gone anywhere — possibly into Kolomoisky's own pocket, or possibly spent in whole or in part to bankroll Ukraine's war with Russia, given that the oligarch was known for "bankrolling" the conflict. But if the funds were used to fund a war with Russia, those taxpayer dollars were not authorized by Congress.
The International Monetary Fund has also been investigating corruption and money laundering in Ukraine, and in 2016, the Ukrainian government finally seized PrivatBank from Kolomoisky for enriching himself off of IMF loans.
On September 10, 2019, the IMF arrived and informed the White House Budget Office that there was an "obligating event" that needed to occur in order for Ukraine to receive further IMF funds.
On Sept. 11, police Special Forces raided PrivatBank, seizing documents and evidence needed to investigate the scheme. The same day, President Donald Trump released military aid to Ukraine.
"Trump wanted a public announcement of "investigations" and everyone assumed that he meant an interview on CNN," Beck said. "I'd say a special forces daylight raid on Ukraine's biggest and most corrupt bank is one hell of a public announcement.
Take an hour and a half and watch this video below as Glen Beck unravels this Obama Administration Scam against the American people.  After watching this video evidence, you will fully understand why Trump wanted the Bidens Investigated.
It wasn't about a Political Opponent…It was about the theft of American Tax-Payer dollars and deep-rooted corruption. You will also understand that the "Deep State" truly exists and they are still in full operation trying to save their asses from prison!
The Hottest Trump Jersey on the Planet!
---
You may also like