Portland Rioters Set Fire to County Building, 2 Arrested
Posted On August 19, 2020
---
Rioters in Portland on Tuesday broke windows and set fire to a county building.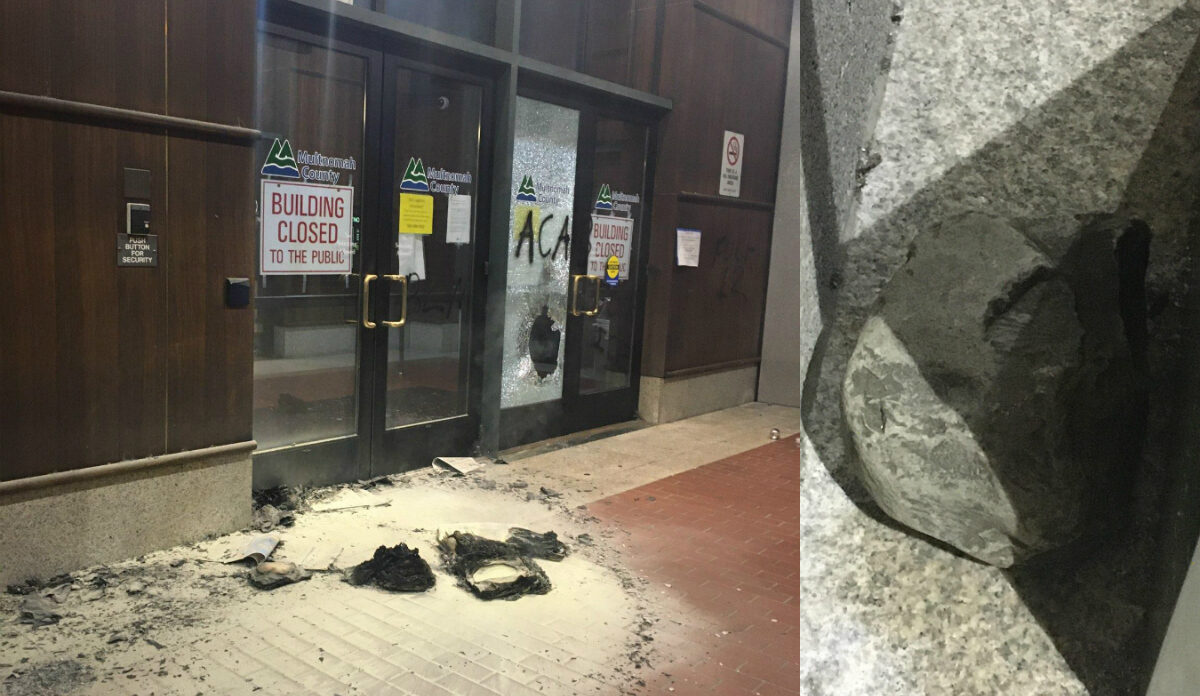 The mob, which has gathered and committed violence nearly every night since May 28, targeted a new building—the Multnomah County Building, a government building just east of downtown.
Video footage and photographs showed rioters launching rocks through windows that had been marked with graffiti saying "aim here" before setting fire to the building.
After smashing out the windows of the Multnomah Building in SE Portland tonight, antifa set the inside on fire. They are trying to burn down the building. #PortlandRiots #antifa pic.twitter.com/3JjkO5aE3j

— Andy Ngô (@MrAndyNgo) August 19, 2020
In an incident summary, the Portland Police Bureau said members of the group started vandalizing the building with graffiti after 9 p.m. They began setting fires in multiple dumpsters near the building and around the building before spraying lighter fluid inside and throwing a burning object.
The fire was large enough to set off fire alarms and the sprinkler system.
As the fire burned, the crowd started to chant: "What did you see? Didn't see [expletive]!"
PNW Youth Liberation Front, a group linked to the far-left Antifa that has helped organize some of the unrest in the city, called the fire "a beautiful sight to see."
"Today, the Multnomah Building, tomorrow, the American plantation," it said on social media. As the fires were set, the crowd blocked traffic using support vehicles, a common tactic. Clashes took place for about 2 hours.
Antifa rioters have shut down the streets outside the Multnomah Building in SE Portland. This is a new target for them. They're using fires as street blockades. We are now over 80 days of violent protests. Video by @TheHannahRay. #PortlandRiots #antifa pic.twitter.com/ckfl5cUoTr

— Andy Ngô (@MrAndyNgo) August 19, 2020
Two people were arrested. Jesse Hawk, 23, faces charges including assaulting a public safety officer and harassment, while Peter Curtis, 40, faces attempted criminal mischief and reckless endangering.
In a statement early Wednesday, Multnomah County Chair Deborah Kafoury said the building that was set on fire serves as the headquarters for the largest safety net provider in the state.
"This is the heart of our county, where people in our community come to get married, get their passports, and celebrate their cultural traditions and diversity," she said.
Kafoury did not condemn the rioters, instead stating: "I acknowledge that there is a grave injustice in our world and there is a violent and tragic history of oppression in our county. I am committed to transformational change."
Sheriff Mike Reese said that "the unprovoked actions by those who engaged in criminal behavior is reprehensible," adding: "It is simply violence and serves no legitimate purpose. It does nothing to solve the issues our community faces."
---
You may also like