China seeks 'calm' to trade war with US
Posted On August 26, 2019
---
China announces it seeks 'calm' end to the trade war, as Asian markets tank. China signaled on Monday it was now seeking a "calm" end to its ongoing trade war with the U.S., as Asian markets crumbled and China's currency plummeted to an 11-year low following the latest tariffs on $550 billion in Chinese goods announced last Friday by the Trump administration.
News of the possible opening in negotiations came shortly after President Trump threatened to declare a national emergency that would result in American businesses freezing their relationships with China.
Trump's tariff barrage on Friday was a response to China imposing its own retaliatory tariffs on $75 billion in U.S. goods. At the Group of Seven summit in France on Sunday, White House officials rejected suggestions the president was wavering and insisted that his only regret was not implementing even more tariffs on China.
Trump talks Iran, 'surprise' visit from the foreign minister at G7 Summit
President Trump on Monday said the U.S. is not seeking regime change in Iran and told reporters at the G7 summit in Biarritz, France, that he hopes to see a strong Iran.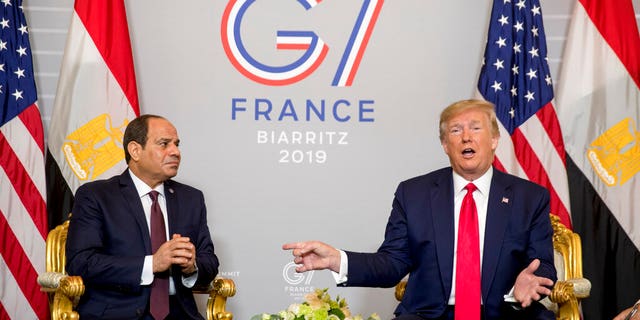 Trump's comments came after a day of tense meetings with his European counterparts about how best to approach Iran and the recent tensions in the region. On Sunday, Iran's Foreign Minister Mohammad Javad Zarif made a surprise visit at the summit at the behest of French President Emmanuel Macron. Trump insisted that he knew about Zarif's appearance but did not meet with him.
---
Trending Now